Ostatnia analema w wykonaniu György Soponyai.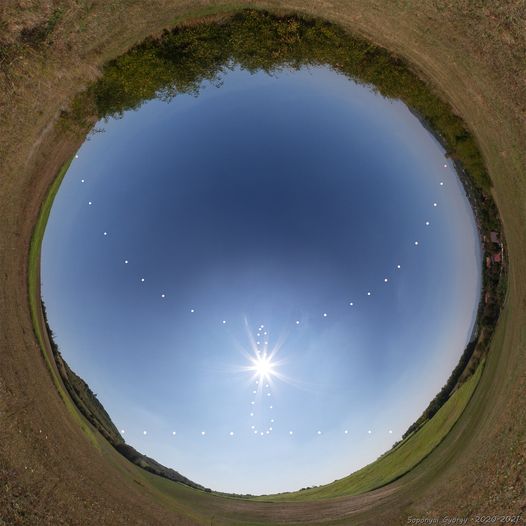 Opis w języku angielskim:
The previous eight years I completed numerous analemma projects in order to record and present the famous "Celestial Eight". With this newest (and probably the last) photo I would like to present a new aspect of this wonderful astronomical phenomena. Due to the COVID-19 pandemic and the lockdown last Summer I decided to use this meadow as foreground of the photo. Ten minutes of walk from my home, absolutely no danger of infection.
I recorded the celestial path of the Sun every 40 minutes from sunrise to sunset three days after Summer- and Winter Solstices. Also recorded the "dots" of the Eight-curve at local noon (11:44) from 2020-06-24 to 2021-05-21. At last I added these captured Solar disks to the foreground image that was taken on 2020-09-05, four days after the Sun had left the crossing point of the analemma.
Technical details:
2020.06.24. - 2020.05.21. Mogyoród, Hungary
Canon EOS 5D Mark II + Sigma EF 8/4.0
foreground: 3 x 1/200 sec, f/18, ISO 100
solar disks: 1/8000 sec, f/4, ISO 100 + ND 1000 filte